THE AATT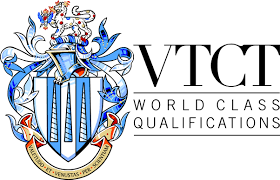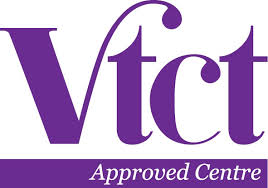 Deborah Jay Kelly is the founder and CEO of The Angel Academy of Teaching and Training which was established in 2003.
Having started out as a freelance journalist and progressing to Promotions for different television channels, Deborah became fascinated in the common link attributed to stress and illness.
Deborah trained in 65 therapies/courses, all of which achieved accreditation's with ITEC, VTCT, NVQ and City and Guilds. This is where she found her real passion to be.
Deborah is also an International Trainer, and Assessor and an Independent Assurance Officer. Whilst running a full-time job and studying, Deborah began treating people at an elite Spa, and this led to the Principle of a College being so impressed at how well she felt after one of Deborah's treatments, that she asked her to teach at her College. Deborah had previously taught for many years in a prestigious school in Harley Street, before being trained up as a professional Tutor and Assessor in order to continue teaching across many Colleges for a total of 8 years. This is where she met many Students who still do courses with her today.
In 2003, due to increasing demand, Deborah founded the Angel Academy of Teaching and Training, which is accredited by the FHT, VTCT, NVQ and BABTAC and able to give CPD points for courses.

Today, Deborah lives out her daily passion by working as a Beauty Trainer seven days a week, appearing in many television shows and promotions often discussing her work and running the Angel Academy weekend courses. 
More recently, Deborah was called to put together a team of her Students in order to work with a group of Celebrity Dancers called 'Diversity' for a show called 'Ashley's Secret Street Crew'. The decision was tough but she settled on a group of her students and therapists. Little did she know that this would lead to 'The Angel Academy of Teaching and Training' becoming one of the most televised beauty schools of all time!
Some reasons why you should come learn with The Angel Academy:
We put our students first • You choose the dates – we will accomodate where possible • We can train you in your salon and spa • Private one to one training available • NVQ units can be taken separately • Extra support offered for students who require it • Payment only necessary for each unit covered • We offer a unique and captivating way to learn • Personalised training to suit your needs in an intimate environment • Time is taken to ensure high standards of training • All training staff are certified teachers, assessors and verifiers.

NOMINATED MOST INSPIRING PERSON OF THE YEAR 2015
Here is one of the nominations from one of Deborah Jay Kelly's Students:
1 Why are you nominating this person? She takes each student under her wings and spends time making them the person they believe they can be. She sees her students as her family and has established a unique and personal training environment which she did after working for so long in the superficial world of teaching… where there were sometimes 30 people in the classroom. She dedicates 7 days a week to helping her students and her love of teaching rubs off on her students who want to come back again and again. She runs the only teaching school that offers every student the opportunity to come back and sit in the same subject class again and again until they feel fully confident (for free) and she selflessly promotes them on all of her social media as she wants them to be successful. She has lots of techniques that she has created herself which she shares with students and her positivity rubs off on her students.
2 What have they done to inspire you? She has made me confident of my abilities and given me the chance to believe in myself. I have met other amazing students and friends through the school and know that she will offer support even after the courses if I need it. After suffering from severe eczema and agoraphobia for 10 years, and after having found recovery, she has inspired others by sharing her story publicaly and on television in the hope to offer encouragement to those who lack confidence and are suffering from long-term illness. She understands and relates to every creed and colour and has gone out of her way to train those with disabilities even if it means travelling to their home to train them! In her late 40's she has managed to become one of the most televised beauty tutor and beauty school. The press, TV and media are fascinated by her passion for her school and her recovery from illness and she is nearly always featured on a TV programme. She has promoted her students, BABTAC and VTCT happily in all media as she likes to help others along the way too!
3 Why would they be a worthy winner of this category? She is humble and would consider what she does to be a normal day to day thing. She believes that she is here to help others, has a duty and is at her happiest when doing so. It would be nice for her to get some recognition of this as she never asks for anything back in return.   www.angel-academy.co.uk
Deborah has organised over 30 Charity Beauty and Holistic Days at Spa and Hotel Groups. She has dealt with the organisation of the events from the date through to the therapists chosen to work for the day. She has been a spokesperson for many Charities and has been a demonstrator at many exhibitions and events such as Cam Expo. Currently working with Charities:
Marie Curie Cancer Research
British Heart Foundation
British Red Cross
Ebola
Tibetan Mud Slides
Indian Premature Born Children (she purchased an incubator)
Tsunami African Orphanage
PDSA
RSPCA
Sponsorship of Homeless Children
Pattaya Orphanage
Disasters Emergency
Southend Hospital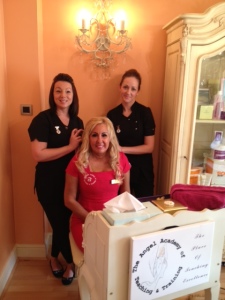 Website:
www.angel-academy.co.uk
Massage Courses
VTCT/NVQ Courses

The perfect course for starting out in beauty therapy

For those who want advanced beauty therapy
COURSE PROSPECTUS AVAILABLE ON THE WEBSITE HOME PAGE:
WWW.ANGEL-ACADEMY.CO.UK
https://www.youtube.com/channel/UCkeD8LRsfErvXYiq03U-1eQ
Diamond Peel Microdermabrasion
Chloe & Diags from TOWIE visit The Angel Academy
Want to maximise your training investment? We can visit your spa or salon and conduct training there, so your staff are still available for clients.
The AATT have successfully trained spa/salon staff throughout the UK and Europe. Below are a few testimonials from very satisfied spa/salon managers.
Well after 2 days of fab training I now have the certificate which will enable me to make all you customers even more beautiful than you already are!! Thanks to the very lovely Deborah Kelly from The Angel Academy in Essex who has the true ability to be professional, helpful and informative and has made me feel confident to start nonsurgical facelifts and microdermabrasion in Perfection Beauty Rooms! — Abi Greenop owner of Perfection Beauty in Burscough, Lancashire
Deborah is a very professional trainer showing a high level of competence. I appreciated very much her flexibility as due to sickness and operations we had to work a little bit around the original training plan. The training was very individualized, concentrating on all individual strengths and needs.
Overall I am so pleased with the entire process from the enquiry to the end of the training. It was nothing short of brilliant, and I would not hesitate to recommend 'The Angel Academy' to any Salon or Spa requiring Holistic Training.
http://www.angel-academy.co.uk/blog/?cat=3
Intense Pulsed Light or Laser Hair Removal. Hugely popular in the UK, this treatment leads the way in permanent hair removal. Salons around the UK command very good profits from a course of IPL or laser. In the 2000′s, women have the opportunity to be hair free and this has led to an increase in the demand for hair free bodies. Certain cultures dictate that women be as hair free as possible and IPL allows for this. There are certain IPL machines in the market that are virtually pain free, making it possible for a woman to have a 'brazilian' or a 'hollywood' treatment. Please enquire if you wish to know more. How Does IPL Work The treatment involves the application of a focused, broad-spectrumlight (xenon), which is applied to the surface of the skin using a hand-held application head. Selective photo-thermolysis involves the process of the light, which travels across and within the range until it reaches the hair shafts or the root of the hair (the bulb). The bulb is usually where the highest concentration of melanin is located. The melanin is what determines our hair/skin colour and once this melanin has been destroyed there can be no […]
THE ANGEL ACADEMY OF TEACHING AND TRAINING – SETTING HIGH STANDARDS FOR OUR STUDENTS
on
Here are a few of hundreds of our students and their awesome Testimonials:
Becoming a passionate Beauty Therapist has always been my dream. Motherhood was one factor that slowed down the process but it never stopped me from achieving my goals. I spent three years with Carlton Institute doing my NVQ 2. After passing all my practical and theory papers I was told the company has liquefied before I got my certificates. I lost my money and my precious time that I could have devoted to my 2 year old daughter. I was miserable and disheartened.
One day I met Deborah from the Angel Academy and explained my situation. She immediately took control of the situation and asked me to continue my education and not give up at all. She is my guardian angel. If it was not for her, I would still be struggling. Thanks a lot Deborah!
Hi Debbie. Just wanted to say a massive thank you for everything you did for me at the Academy. Because of your hard work on me I am now joining a 6* Cruise Ship as a Nail Tech, which is a absolute dream!
Hope you are keeping well and Academy is all good
Natalie Jobber
Thank you again xxxxx
Hi Deborah
Its Kym Axtell here, owner of Salon U. The Lady that sent Hayley Waddilove to you 18 months ago to do NVQ 2 Beauty. Hayley is an amazing Therapist. I am so impressed with the way she has been taught and her perfections with her work.
Nicoleta Jivoiu
I have found "Angel Academy" this year, through a simple internet research -"Fast track nvq3″. I thought the Price is really good and worth it to travel an hour and a bit for it.
At my first impression when I arrived at academy, it was a very warm feeling and Debbie made me feel very welcome. She is a very smiley, supportive and caring lady.
The course it is as it says – fast track! I managed to have all my assessments done in few days of tutoring then I completed the written ones and in the end the exams, which all together took me around 3 months.
Now I am applying for a new course with Angel Academy, as I know nobody else can deliver as well as Debbie!
The aim I am looking for is to be able to work in aesthetics fields sooner!
So, thank you Debbie and Loraine for your support and professionalism.
I have learnt a lot from Angel academy and I kindly recommend this company.
Nicky xx
CAMBRIDGE LASER CLINIC
I took four courses at the Angle Academy and found it comparing to other colleges very flexible, easy, and fast to complete.
The teaching was simple and I had great guidance on finishing all course work.
Other colleges took me much longer although they were fast track courses, and was asked to do tons of case studies and I had to buy so many materials, provide many models and countless unnecessary work.
So if you looking for fast, flexible, affordable courses I highly recommend the Angel Academy
Ps: the college atmosphere is very relaxing
It felt like being at home, and there was never more than 5 students at the time, which was great for one on one teaching
Linda Skaikar
Brand Ambassador
T: +44(0)207581435
M: +44(0)7834269830
E:   linda@gazelli.uk
PERSONAL RECOMMENDATION
The Angel Academy of Teaching and Training has a delightful ambiance and no matter whether you are studying for just a few days or longer the benefits of learning with others in such a relaxing environment enabled me too fully engage with the course material.
Deborah Kelly is a true professional and master of her disciplines she has an uncanny ability to explain in a simple and easy to understand way how complex body systems work accelerating the learning process.  Before retiring from the Aviation sector I worked on hard and complex things on a daily basis and rarely enjoyed my training courses, however my training experiences with the Angel Academy have changed all that now and I would recommend Deborah Kelly and The Angel Academy of Teaching and Training to anybody who is seeking to learn a new skill quickly and in a superb learning environment.
Jonathan Spooner
CEO BIOMAG UK
Thank you so much for the training and support you gave me Deborah, when I first came into your class I was very shy to talk because English is not my first language, so I was afraid to make mistakes. But you helped me and you gave me confidence and because of our Anatomy lessons my English has improved a lot, now I can talk in front of my colleagues and I am 100% confident.
I love the way you teach us how to do practical lessons. Doing with you my level 3 was the best choice I've ever made, because we are a small group I can learn very easy and improve my skills, I feel so free to put as many questions I need and in return you give us all your support and the way you explain things everyone can understand.
You are very professional and dedicated to your students , you became a model for me, and I hope in one day to became a great teacher as you are.
Thank you so much for everything you teach me and i m sure i will do more courses with The Angel Academy and I am 100% positive to recommend the school to my family and friends and anyone else looking for training excellence. Roxana Lupu
Depilex Clinics